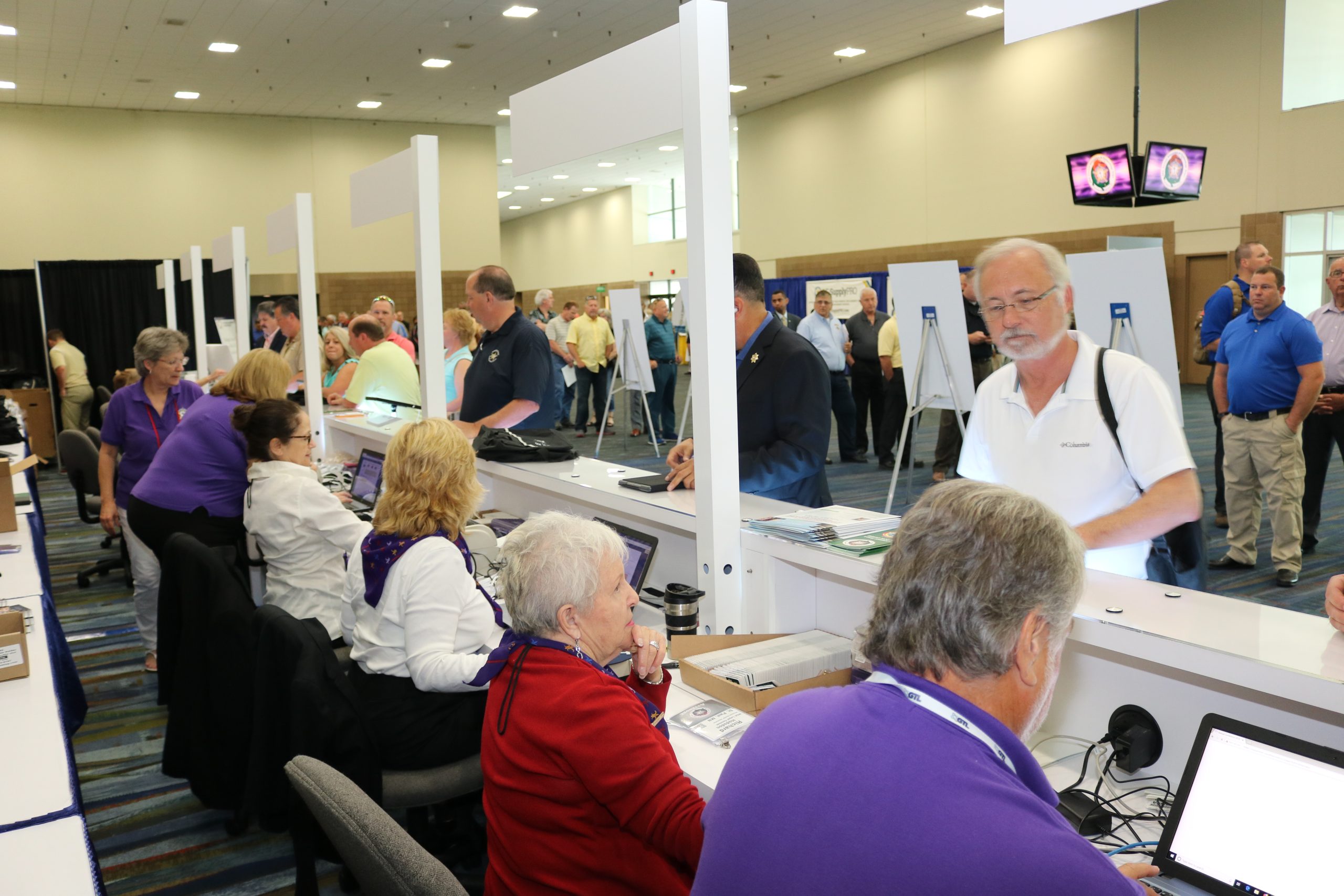 NSA REGISTRATION INFORMATION
Registration Fees
Each paid full attendee registration includes admission to all exhibits, general sessions, the Welcome Reception on the show floor, seminars, Tuesday morning coffee and donuts on the show floor, Tuesday Awards Luncheon, and Wednesday Lunch in the hall.
Registrations purchased after June 15, 2022 will not include any listed meals.
Payment or purchase order must accompany each registration form for the registration to be processed. NSA members receive a discount on registration. Include your membership number on the registration form to be eligible for this discount. If you are not currently an NSA member and would like to qualify for the discount, call NSA at 800-424-7827, ext. 201, for membership information or go online to www.sheriffs.org.
2022 Pricing
Members
Non-Members
Spouse/Significant Other
Agency Multiple Attendee Discount*
Presenter Member
Presenter Non-Member
Exhibitor, Additional Full Pass

$530 ($665 with Banquet)
$630 ($765 with Banquet)
$235 ($365 with Banquet)
$350 ($485 with Banquet)
$530 ($665 with Banquet)
$630 ($765 with Banquet)
$350

*the sixth person from an agency will qualify for discount
Registrations purchased after June 15, 2022 will not include any listed meals.
ADDITIONAL TICKETS FOR PURCHASE
Register for any of the following additional tickets when you register. No meal function tickets will be available for purchase onsite.
AWARDS LUNCHEON
The Awards Luncheon, during which the NSA awards will be announced, will be held Tuesday, June 28. The cost is $60 per person.
PRAYER BREAKFAST
The Prayer Breakfast will be held from 8:00am – 8:45am on Tuesday, June 28. The cost is $20 per person.
WORSHIP SERVICE
A Worship Service will be held from 9:00am – 10:00am on Tuesday, June 28, and is open to all registered conference attendees.
SPOUSES' BRUNCH
The Spouses' Brunch will be held Monday, June 27, at 9:00am and is open to spouses and children. Tickets are included in all spouse/child registration.
ANNUAL PRESIDENT'S RECEPTION AND BANQUET
The annual reception and banquet, during which the new NSA president is installed, will be held Thursday evening, June 30. Purchase of a separate banquet ticket is required to attend.
TRAINING SESSIONS
Training Sessions are separate registrations, are 4, 8 or 16-hours sessions, and should not be confused with the seminars held as part of the conference. To register for a Training Session, select the Training option on the landing page. For all Training attendees, transportation, housing, and meals are the responsibility of the participant. All Training will be held at the Kansa City Convention Center.
ARIDE is a 16-hour training course that was created to address the gap in training between the Standardized Field Sobriety Testing and the Drug Evaluation and Classification Program. It is FREE but you must register here. It will be held on Monday, June 27, and Tuesday, June 28, 8:00am – 5:30 pm. Lunch on own.
FLETC HOMELAND SECURITY LEADERSHIP ACADEMY (DHSLA) CERTIFICATION
The Department of Homeland Security Leadership Academy (DHSLA) is the result of a shared vision of FLETC and the National Sheriffs' Association (NSA), to establish a professional development venue for state, local and tribal law enforcement leaders to explore contemporary issues impacting homeland security and law enforcement operations and better prepare state and local law enforcement leaders (present and future), for complex, inter jurisdictional active shooter/mass casualty events, as well as other homeland security related challenges facing law enforcement leadership. This training is designed for command staff and other state, local, and tribal law enforcement leadership. The 8-hour follow-up training session at NSA's Annual Conference, plus the two-week program at FLETC, results in a Homeland Security Certification issued by NSA. It is Free but you must register. It will be held on Tuesday June 28, 9:00am – 1:00pm and Wednesday June 29, 9:00am – 12:00pm.
REDUCING ROADWAY FATALITIES THROUGH TRAFFIC INCIDENT MANAGEMENT (TIM): A NATIONAL MODEL
The DOT Certified National TIM Responder Training Program provides incident responders with a national curriculum developed by responders for responders. The 4-hour training offers a set of practices and advanced standards to enable safer and faster clearance of traffic crashes. It is FREE but you must register.
It will be held Tuesday, June 28, 8:30am to 12:30pm.
BELOW 100 TRAINING
The mission of Below 100 is to reduce law enforcement line-of-duty deaths to fewer than 100 per year. Below 100 Training aims to eliminate preventable line-of-duty law enforcement officer deaths and serious injuries through training designed to focus on areas under an officer's control. These areas of focus, include getting LEOs to wear a seat belt and a vest; to watch their speed; to stay present and to focus on what's important now; and to remember that complacency kills. It is FREE but you must register.
It will be held Monday, June 27, 8:30am to 12:30pm.